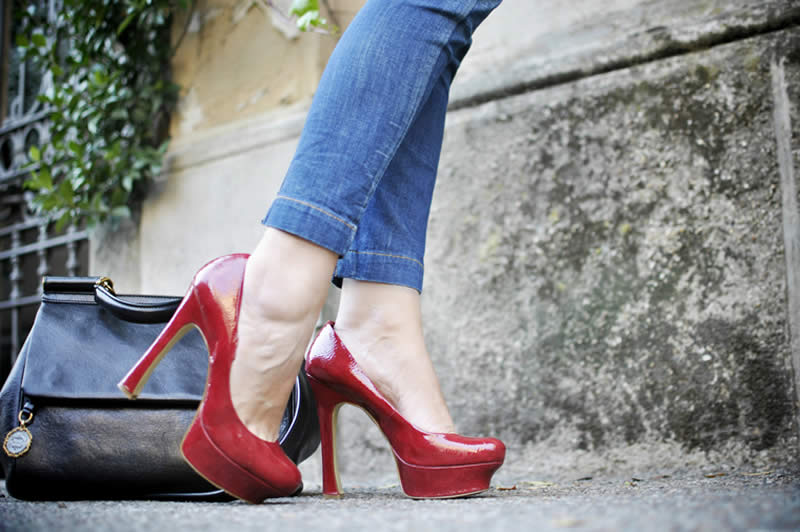 Personal style: the perfect pair of jeans
Skinny high waisted jeans
While everyone is happy with the resurgence of the Flared Jeans, I am still holding on to my skinny high waisted jeans. I love to put the accent on my hips and that is exactly what these jeans do. I feel super comfi in it and that's why I prefer to wear them every day. I got them in all shapes and sizes: black, blue, yellow, ripped, non ripped, with pockets, without pockets, you name it!
Unfortunately I see the skinny high waisted jeans slowly leaving the collection of my favourite stores. I find this a great pity because these jeans are the only ones that I feel really comfortable in. Also these jeans really show what my st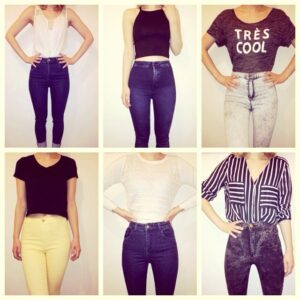 yle is. I am far from tall (5'3″ ft) and other jeans make me feel like my legs look even shorter. The skinny high waisted jeans put the accent on my hips and that makes me feel people won't notice my short legs ahahah. I love to put my t-shirt or tanktop in it. This gives a nonchalant touch. Also with a croptop it makes your look really cool. Nice sneakers underneath and go! Also I love to roll up the bottom of the jeans for a nice springlook.
I remember that about five years ago the skinny high waisted jeans was upcoming. I really found this 70's look cool but I did not dare to wear them yet. I waited some time until I bought my first pair of skinny high waisted jeans at a store called Pieces. It was (as usually with my length) way to long, but I loved it. I rolled up the bottom and wore cute heels underneath. Since then I barely haven't worn other models of jeans.
Still stands opposite all the benefits also one disadvantage at wearing the skinny high waisted jeans. I love food, which makes my tummy expand during the day (haha is this even normal?). In the morning these jeans fit perfectly but in the afternoon it's starting to press in my tummy. Sitting hurts and at this moment I would love to untie my knot (which I think my bosswouldn't be too happy with, haha). Lately I have been buying my skinny high waisted jeans one size bigger so they don't get so tight during the day. But, as we say in The Netherland: Who wants to be beautiful must suffer!
Even though in my group of friends (and especially my colleagues) everyone is loving the new trend of flared jeans, I still can't believe that in a few years I will be just as loving about the flared jeans as I am today about the skinny high waisted jeans. But well, fashion changes all the time and so does my taste in fashion. So we'll see. But for now I am team high waisted!!!