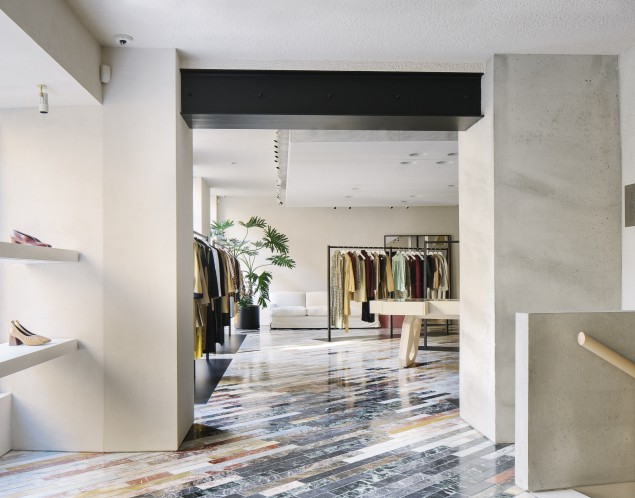 Céline Fashion Store in Milan.
After the restyling, Céline has opened again the doors of the Milan's store. The renovated Boutiques offers not only an incredible in style collection but as well a sophisticated architecture and design.
Céline has re-opened his store on Via Montenapoleone in Milan after restyling. The shop front is elegantly decorated with wooden iroki. Is very nice the contrast between the strain stone , typical of the buildings of Milan, and this wood.With its 320 square meters of retail space, the store is on two levels, housing the leather offer, ready to wear and woman's shoes. A curved stairs in solid concrete, connecting the ground floor to the first floor. On the ground floor are mainly accessories, from bags to sunglasses and on the first floor there are clothing and footwear area.Some models , like the Trapeze's bag , are among the most copied in the recent history of fashion : not only by the counterfeiters real but by many brand competitors in the highly successful trapezoidal shape is clearly inspired .
The Danish
artist Fos
has worked for the restyling of this Cèline store in Milan. He has created several exclusive designer items for the store as exhibitors for sunglasses and jewelry, concrete seating and wood and terracotta pots.
The floor is marble with parquet pattern consisting of eleven different types of marble. The exhibitors of bags and shoes are made of Navona travertine. Small leather goods is exposed on counters made of onyx and white cement. the store is dotted with cubes of onyx, wood or concrete, ceramic stools and many green plants.
On the occasion of the reopening will be available exclusively for the boutique a special version of the Tri-Fold bags and Mini Belt.
Definitely the "new" Céline store in Milan that is worth visiting not only for the fine clothes but also for the elegance of the environment!