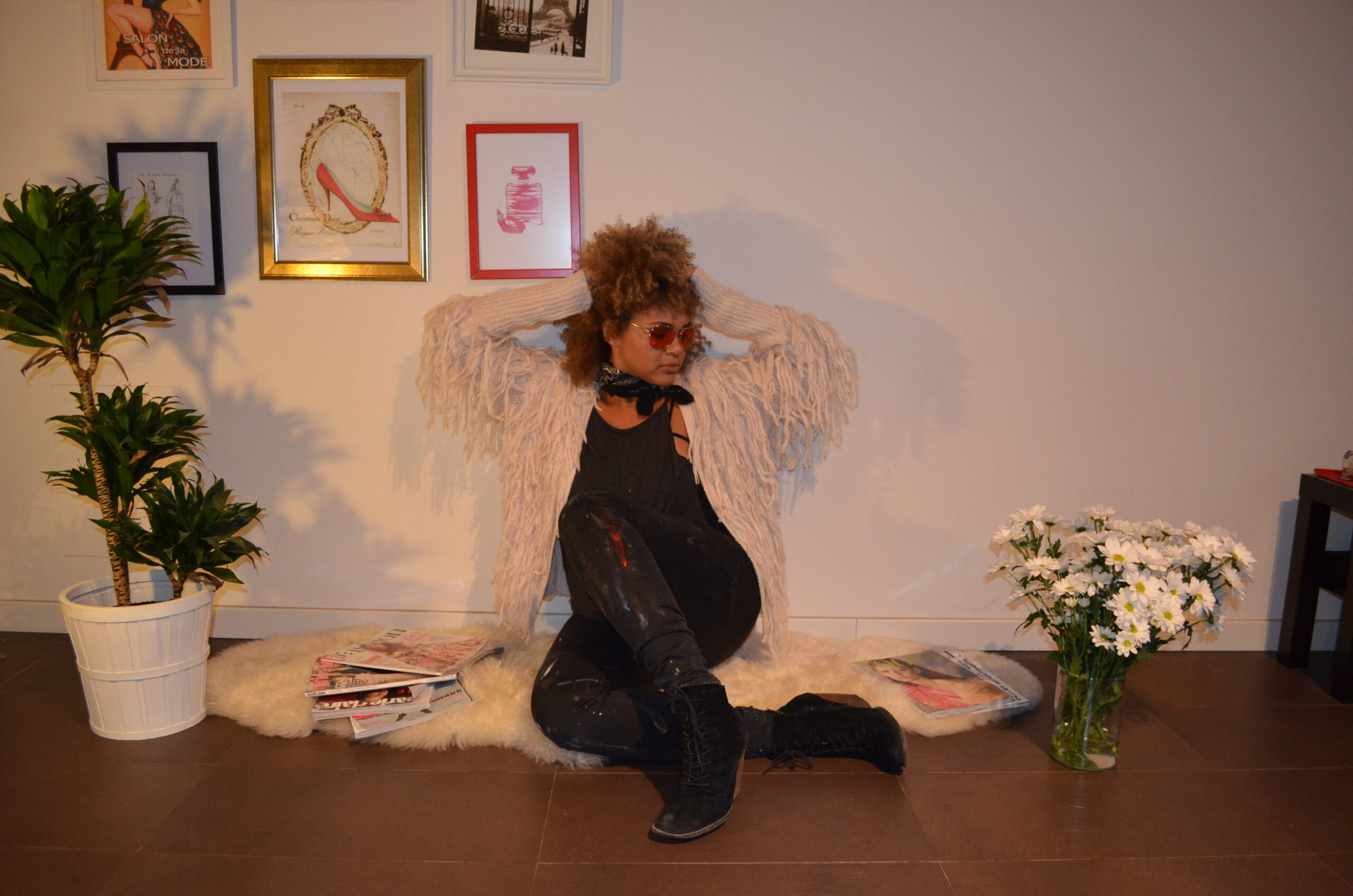 Fashion Styling in Milan. Styling the artist Jenny Perez!
Fashion Styling in Milan. Focus on: Jenny Perez!
Our Fashion Director Maria Waleska had the pleasure to do the fashion styling in Milan to the eccentric and powerful artist Jenny Perez!
She's an artist from Miami who brings cool vibes into fashion capital Milan. Now she has an exhibition in Milan, it was already the perfect opportunity for our Fashion Director Maria Waleska to do the fashion styling in Milan and now I got the honor to interview Jenny and introduce this cool new wave to all of you!.
Sophie: For the people who don't know you, could you tell some things about yourself and what you do?
Jenny: Well, I'm Hispanic American and was born and raised in Miami , Florida . I am a working artist in the city and have been sharing my work with the world now for almost 10 years! It's been such an exciting journey because I absolutely love what I do, and I am so lucky to be able to make a living doing it!
S: How would you describe your personal style
J: My personal style has always been revolved around comfort . I remember when I was much younger , I would wear tight clothing and high heels all the time – it was the Miami way, but then, I became more and more involved with my work especially the work I created on the street, that I began to wear things that felt good to paint in. Throughout the years I have stained hundreds of clothes with paint, that essentially the "paint-stained" look has evolved into my own unique personal style. I have always been into fashion , in fact, one of my first exhibitions was a fashion show of which featured my paintings as a primary accessory on the runway- the models carried them like handbags and it was quite the thrill! Since then, I've collaborated with several local designers and stylist – most recently being Elisaface, a local talent here in Miami whom I've given full creative control over everything I wear . She is brilliant and understands me most and how I like to express myself through clothing . Big Hugs to her!.
While in Milan, I enjoyed being styled by Maria Waleska. I felt like the fashion styling in Milan was upscale. Everyone looked like they had their own private shoppers and stylists! It was inspiring to see people on the streets dresses so well. I also loved the styling PSM's did for me for the opening of the Residency Espinasse31, I was positively surprised by the time M.W brought me to Concept Made boutique in Porta Venezia, and picked just the perfect outfit for the event!
S: How does fashion inspire you in the art you make?
J: Fashion has always inspired me . I see it as another form of expression and I have a true respect to those in the industry at any capacity. My work often times features bold female characters , all of which project a true uniqueness and balance of femininity as well as masculinity. I recall always collecting the latest vogue magazine to search for inspiration on my next painting, and while in Italy I recognized the fashion styling in Milan on the streets was very touching. I love the drama of high fashion, I've always enjoyed the art of fantasy and exaggeration- often times I am looking through the pages of the fashion magazines to find more of those qualities and in turn duplicate that essence onto my canvas .
S: So currently you have an exhibition in Milan. Why Milan? And what inspires you the most in this city?
J: Milan was not a choice but more so a beautiful opportunity granted to me by a new innovative artist residency / gallery called Espinasse31. I am very honored to be apart of this collective and look forward to more future projects there. I find Milan most inspiring for the beauty it posses in the streets , architecture , food and within the people. When I arrived in Milan for the first time this last November, I was scheduled to stay one full month. I had never been away from home that long- the discomfort of not being accustomed to a place allowed me to focus more on my work, with much less distractions I dug deep and that translated into my paintings. It was because of my new environment and because I was challenged that I also took my work into a fresh new direction. I tried new things that I would normally never do in Miami –
"I was living outside my comfort zone, and now I know for sure , that it is indeed, where the magic happens."
S: What is the link between your art and your personal style?
J: Well, I find my art to be bold , eccentric and feminine, while still posses a uniqueness that can't be duplicated or confused for someone else. My personal style is quite the same – I have big bold natural curly hair that most people recognize me for and I enjoy piecing different cloths together to make it more my own- it's a creative process getting dressed , and I don't ever plan what to wear- it's all dependent on how I am feeling just a few minutes prior – it's the process I have for my work- I feel more and the first layers are usually pretty fluid and abstract .
S:Can you tell something about your current exhibition and what it's about?
J: My current exhibition at Espinasse31 in Milan is titled "Milano black" and it features over 25 unique works that I specifically created in Milan . I wanted to share more personal stories about me and my past , which has been quite dark. I used this collection to really heal from that darkness and while bringing out this darkness I was able to make something beautiful. Despite the heavy subject matters and or subliminal messages I think it's most special because at it's essence it's still filled with light – which is essentially very much like my spirit and personality . You will see works that feature clippings from my personal journal, sketchbook cut outs, references to sexuality and my life in Miami.
Her exhibition can be found at Espinasse31, adress:
Viale Carlo Espinasse 31
20156 Milano, Italy
[ngg_images source="galleries" container_ids="22″ exclusions="114,115,116,117,118″ display_type="photocrati-nextgen_basic_thumbnails" override_thumbnail_settings="0″ thumbnail_width="240″ thumbnail_height="160″ thumbnail_crop="1″ images_per_page="3″ number_of_columns="3″ ajax_pagination="0″ show_all_in_lightbox="0″ use_imagebrowser_effect="0″ show_slideshow_link="0″ slideshow_link_text="[Mostra slideshow]" order_by="sortorder" order_direction="ASC" returns="included" maximum_entity_count="500″]For more info and inspiration go to Jenny's website:
www.new.jennyperez.com